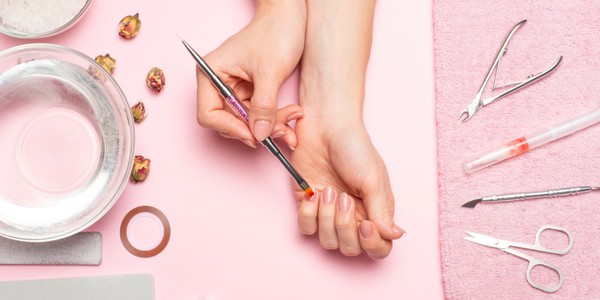 6 steps to perfect manicure at home
June 15, 2021
If you are new to the world of manicure, it may seem difficult to navigate correct steps when applying different nail products. That is why we prepared this guide for you so that you can always achieve professional results easily and quickly in the comfort of your home.
Step 1: Preparation
Before working on your next manicure pay attention to preparation of your nails. Remove your old manicure, if you had one, file the nails to your preferred length and push back your cuticles.
Step 2: Base coat
As the name suggests, the first layer you actually paint is the base. The base coat protects your nails and helps the coloured nail polish to adhere better to the nail bed. It can also nourish the nails depending on the specific formulation. Although this layer is usually nothing exciting, do not skip it. Your nails will thank you and your manicure will last longer.
Step 3: Colourful nail polish
After applying the base coat, the application of your chosen color nail polish follows. This is the layer we are usually looking forward to. You can choose from thousands of colors and different finishes, your options are literally endless. Depending on the formulation of the color nail polish, you may need one or more coats to achieve the desired level of color saturation. Always allow each layer to dry thoroughly to prevent bubbles from forming.
Step 4: Topper
Toppers usually have only different effects without giving you the possibility of full coverage. Toppers are very versatile and turn "boring" nail polish into an amazing manicure from which you will not be able to take your eyes off. If you want to add an interesting finish to your nails, the easiest way is to use a topper. Toppers are applied as an additional layer on top of colored nail polish. Toppers can be glitter, holographic, magnetic, etc. Alternatively, you can use them separately without a colored nail polish as background, there are no limits to your creativity.
Step 5: Topcoat
Topcoat serves to finish your manicure, as it protects the colored varnish from abrasions and chipping, thus extending the durability of the manicure. Be sure not to skip this step and you will notice a much better longevity of your manicure.
Step 6: Nail oil or cream
Do not forget to finish off your manicure by caring for the skin around your nails by hydrating it with nail cream or oil. Your nails will be nourished, and you will take your manicure to the next level.
Do you follow these steps when painting your nails? Let us know in the comments.

Have a great time painting your nails.